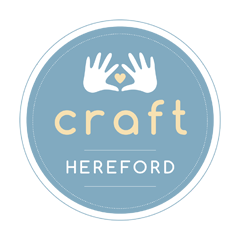 Roll on 2021, fingers crossed Craft Hereford craft fairs will be up and running once again.
Craft Hereford organises and attends craft fairs in and around Hereford for its members. They create products that include jewellery, greetings cards, children clothes, toys, soap, textiles and many more.
Craft Hereford was founded by Mandy Jones in 2014 following the birth of her daughter. Whilst raising her she used her passion of crafting to make gifts for friends and family. This led to commissions for her work. Mandy wanted to take her crafting to a wider audience, but found it difficult to find local craft events. The solution was Craft Hereford.
Craft Hereford promotes local crafters in and around Herefordshire, from local village halls to local community projects. Mandy wanted to support the small hobby maker as well as the more established crafter. It started with theme events throughout the year at Easter and Christmas. They now have regular craft stalls in Hereford High Town as well as the Hereford Butter Market. 
In addition to their regular residencies, Craft Hereford finds local venues and events around Herefordshire for their members.  Craft Hereford also organise local events for crafters to attend.
Over the years the Craft Hereford community grew via social media, so much that she partnered up with local jewellery and soap maker Amber Lou.